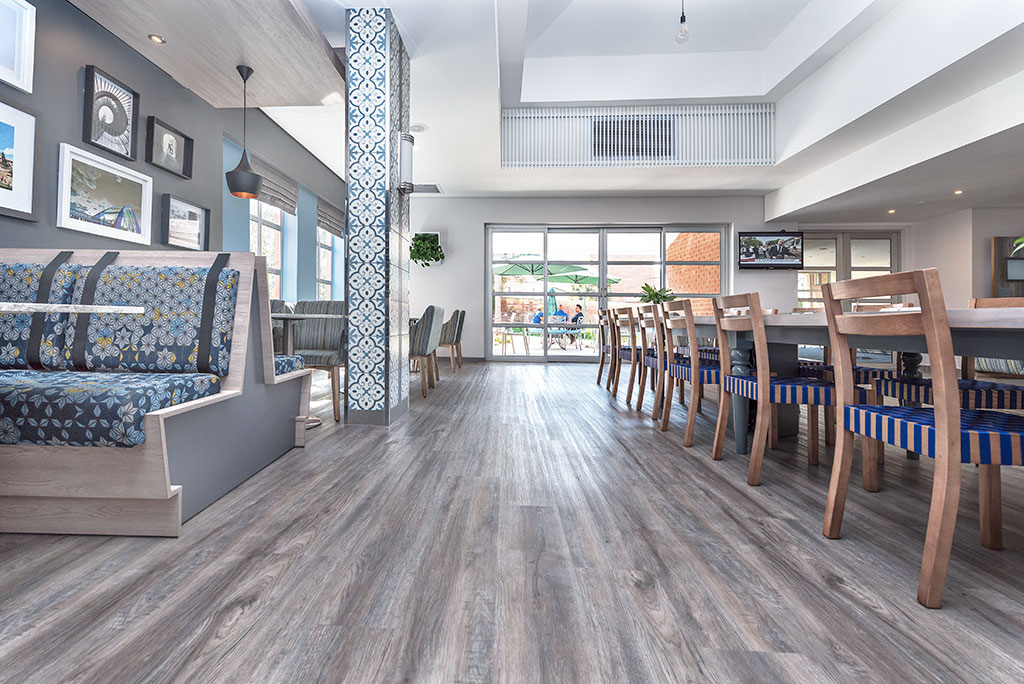 Your floors are one of the biggest investments you can make for your home. It is a fixed structure that is costly and time-consuming to replace. Therefore, it is vitally important that you choose the right flooring not only in terms of appearance, but also material. Vinyl Flooring has become wildly popular in recent years. This is due to its cost effectiveness as well as its robust nature. A goodquality Vinyl Floor will last you decades to come.
 
WHAT IS VINYL FLOORING?
The core for this type of flooring is manufacturedusing "Calcium Carbonate" combinations using heat and pressure. The basic core boards then have a vinyl décor layer heat laminated to the core materialto give off an appearance of real hardwood board. At Inovar Floor, we offer vinyl in different types of woods, colours, and texturedsurface finishes. A transparent wear layer is then applied to the final product. This layer serves to protect the vinyl and the core board. It is durable, stain-resistant and highly resilient against damage. Our Vinyl Flooring is cut into boards that fit onto each other so the patterns flow smoothly with a natural finish.
At Inovar Floor, we ensure that all of our products offer you a sense of luxury and comfort. Our Vinyl Flooring is produced with top-notch/high quality raw materials andgo through strictly controlledquality checks. The one big advantage of Vinyl Flooring is that the product is able to give off the exact appearance of real hard wood,costinga fraction of the price. Essentially you will be receiving a luxury product without forking out the hefty price. Additionally, Vinyl Floors are more resilient against damp and damage.
The total construction of the boards will not bloat or warp even under high moisture environments. Therefore, you can safely install it in your bathrooms and kitchen without the fear of water damage.
VINYL FLOORING INSTALLATION
The installation of Vinyl Flooring is a relatively simple DIY project that you can do yourself. To start off, ensure the subfloors are complete level and smooth. Fill any small dents and sand down protruding parts of the surface if necessary. The boards are manufactured with a tongue and groovethat click into one another. This means the entire floor will not need adhesive or nails to stay in place, giving you a no mess, no fuss experience. It is important to leave a minimum of 5/10mm millimetresexpansion gap between the walls and your boards so that the wood can easily expand once completed. Alternatively, if you want the assistance of professionals, we have a team of specialised in-house technicians as well as recommended installers that can do it for you.
Our Vinyl Flooring prices are extremely competitive and affordable. For an easy quote, simply fill in the form to the right and one of our professional consultants will aid you in your search for the perfect floors for your home or office.
The difference between LVT and SPC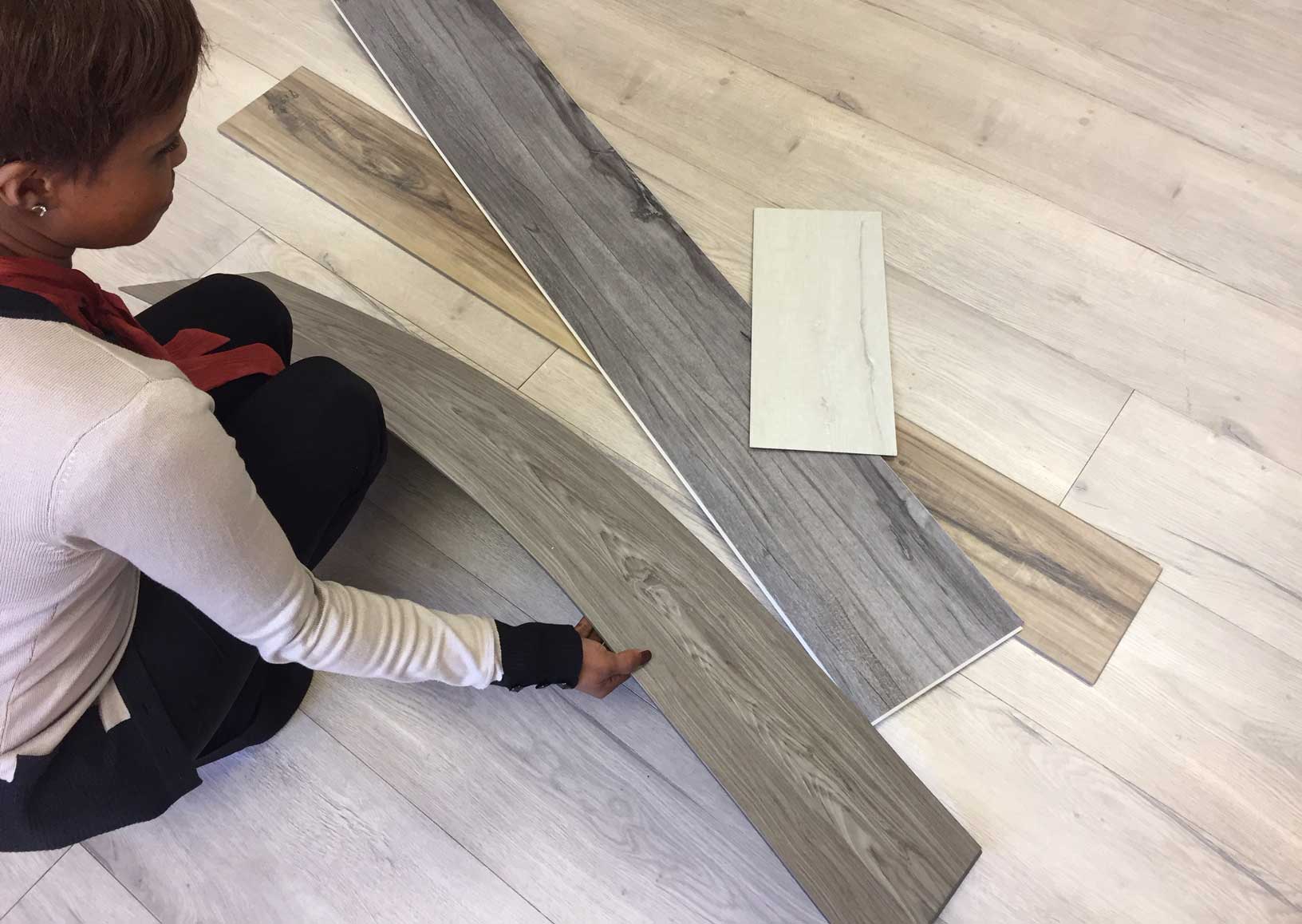 LVT vs SPC: What's the difference?
When you think of vinyl, do you think of cracked and warped flooring in old-fashioned blue bathrooms and yellow kitchens? A lot has changed in the vinyl flooring market since the 50s and 60s: vinyl flooring evolved into thicker and more durable luxury tiles which could withstand a lot more moisture but also had the potential to suffer in certain conditions. Since the advent of vinyl flooring, there have been radical advancements in the construction technology of the planks, and common perceptions have not necessarily kept up to date with what's currently on the market.
Luxury vinyl tiles (LVT) became very popular in recent times owing to their ability to withstand more heat than their update counterparts and to shrug off topical water, making them a good fit for kitchens and bathrooms. In the past couple of years or so, a new entrant on the retail/domestic scene has made waves in décor and flooring: stone plastic composite (SPC) flooring, which to date, is the ultimate vinyl flooring when it comes to dimensional stability, thanks to a core board fortified with stone powder.
With so many different vinyl products in the retail flooring space today, from glue down sheet, dry lay plank, click joint panels, it is sometimes difficult to make an informed choice about which is the most suitable product for your particular project. Check out the table below for a comparison of LVT tiles and SPC vinyl floors.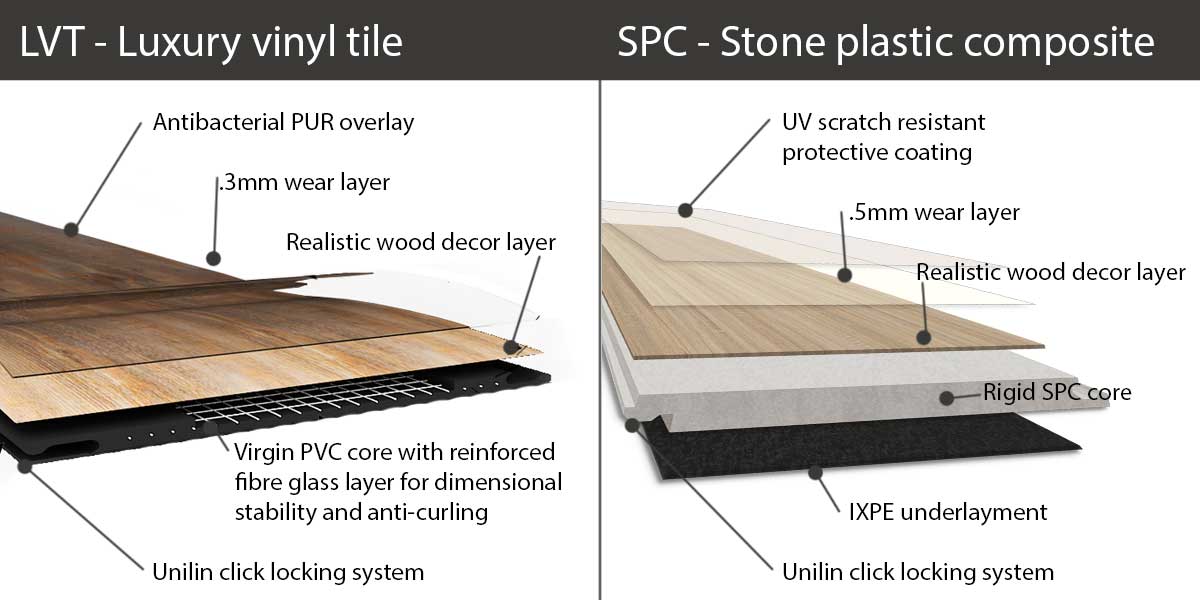 | | | |
| --- | --- | --- |
| LVT or SPC | Luxury Vinyl Tile | Stone Plastic Composite |
| Construction | Has a cross linked fibreglass layer to increase dimensional stability and is rolled in layers which are fused together but it is still flexible. | Core is manufactured from Calcium Carbonate impregnated with lime stone mix, which is then manufactured using extrusion method. Less pliable and more rigid. |
| Plank thickness | 5mm or less | 4 – 6mm |
| Sturdiness | Little dimensional stability under exposure to direct heat and sunlight | Is sturdy under foot owing to a rigid core. It will prevent dents, wear and tear. Has a very high indentation resistance with greater wear ability properties depending on thickness of wear layer. |
| Appearance | Has a realistic look, but tends to be less advanced than an SPC vinyl. | Has a realistic look, possible texture and has a denser feel. |
| Sub-floor | Can be installed over plywood, cement and existing floors, but a traditional vinyl will not be forgiving with any subfloor imperfections. | Can be installed over plywood, cement and existing floors; an SPC vinyl will not change shape as easily as traditional vinyl. SPC vinyl has a limited chance of "telegraphing" & therefore more forgiving than traditional vinyl. |
| Installation | Can be glued down, can have a loose lay or click lock installation. | Can have a floating click lock, a tongue and groove system that is DIY-friendly. |
| Dent Resistance | Is soft and pliable, which means heavy furniture can easily dent the flooring. | Is more resilient when it comes to dents and heavy furniture. It is a great option for commercial settings. |
| Water proof | 100% waterproof against Topical water (i.e. from the top) | 100% waterproof from the top & bottom |
| Price per square meter (installed) | Discontinued | R506,25 excl installation |

Both LVT and SPC flooring definitely have their pros, both are 100% waterproof, available in a wide range of styles, and are easy to clean and maintain. From our perspective, LVT has failed in South Africa, for a number of reasons, not least of all, being lack of discipline by local installers in not following the installation instructions issued and because certain vinyl's were not able to cope with the South African climate and our living conditions. A combination of our harsh South African sun, our cold winter nights, the lack of temperature control within our houses and lack of discipline made for all of the ingredients of a perfect recipe for cracking and lock failure.
SPC is the evolution of vinyl flooring that is built for South Africa. The high level of dimensional stability means that no acclimatization is required in the planks, and because they are so stable, expansion under direct sunlight of up to 50°C is no longer an issue.

 
Vinyl Care and Maintenance

The Inovar Floor Warranty
Inovar Floor offers all its customers of domestic flooring a 25-year warranty on the floorboards and flooring for commercial use comes with a 5-year warranty. This warranty is subject to proper installation by an accredited installer and proper ongoing care and maintenance.
In order to validate your warranty, you need to complete the form on the warranty card that comes with your purchase and mail it back within 14 days of your installation. There are two parts: the first should be completed by the dealer with their details, it will also speak to allowable floor coverage and moisture readings. In the second part, you will accept the warranty conditions, and the cleaning and maintenance instructions summarised below. You will send the completed form back to Inovar Floor and it will be filed for safe keeping.
 
Cleaning and Protecting your Vinyl Flooring
You can achieve long-lasting beauty in your home by purchasing a high-quality floor and giving it the proper on-going maintenance. Follow the recommendations below to maintain the natural look and protect the beauty of the floor finish.
How do I clean my vinyl floor?
After installation, we recommend a first cleaning to remove any loose dirt or debris that may have been caused during installation.

Sweep or vacuum the floor regularly to remove loose dirt. Don't use vacuums that use a beater bar or turn beater bar off.

Don't use electric brooms with hard plastic bottoms with no padding.

Clean up spills immediately.

Mop with a damp micro-fibre mop as needed using clean water and a diluted floor cleaner. Don't use harsh cleaners or chemicals on the floor. Don't use abrasive scrubbing tools. Don't use detergents, abrasive cleaners or "mop and shine" products.

Test any new cleaning agent on a small patch of the floor in an inconspicuous area.

Avoid using harsh cleaners or any cleaner with an ammonia base.

Vinyl flooring, like other smooth floors, may become slippery when wet. Allow time for the floor to dry after washing.

Immediately wipe up wet areas from spills, foreign substances or wet feet.
How do I protect my vinyl floor?
To protect the floor surface from walked in abrasive dirt and debris we recommend the use of an effective barrier system to limit the amount of moisture, dirt and grit that may enter the area, by using a good walk on/off mat.

Furniture should be moved onto the newly installed floor using an appliance hand truck over hardboard runways or pulled on towels/blankets into position and be fitted with felt pads to protect your flooring surface.

Avoid exposure to long periods of direct sunlight. Close blinds or drapes during peak sunlight hours. Floor covering subjected to excessive heat and light is subject to thermal degradation. Use appropriate precautions to protect the floor.

Use natural ventilation or intermittent air conditioning in vacant/holiday homes.

Oil or petroleum-based products can result in surface staining. Don't track asphalt-driveway sealer or automobile-oil drips onto the vinyl floor covering.

Use non-staining mats – rubber will discolour the floor or cause it to turn yellow.

Frequently moved furniture should have felt pads underneath to avoid scratching the floor.

Heavy furniture and appliances should stand on non-staining large surface floor protectors to save your floor from indentation over time.

Furniture with castors should be easy swivelling, and suitable for resilient floors. Don't use ball type castors as they can damage the floor. For office chairs, use soft-wheeled castors.

Use felt floor protectors under all furniture.

Don't allow pets with unclipped nails to damage your flooring. It may result in severe scratching to the surface. The same is true for any stiletto-heeled shoes that don't have proper tips on the heels.

If your floor has been exposed to excessive amounts of water due to flooding, don't panic! Diamond Core is waterproof. Simply remove the water as quickly as possible and switch on a humidifier in the affected room to reduce the moisture levels back to normal. Don't dry the room to below the normal moisture level that existed previously.